Nothing quite elevates a neighbourhood like good food. In tiny Singapore, we're never really far away from a raved about plate of chicken rice or a chain restaurant that does semi-decent food.
But sometimes, you trudge home a little weary of human interaction, or you feel like a little treat on a Saturday morning, and that's when you wish you had a spot like Firebake to greet you like a warm hug.
I live close to a popular nightlife quarter. Once, it was an area where homesick expats would find their fix to stave off their cravings before their next visit home. These days, the neighbourhood is better known for its loud social drinking chugged on sectioned-off tarmac and the crowd, which is usually a rowdy mix of none-the-wiser expats, underage international school kids and beer tower-chugging millennials. And let's not get into the food. The legacy restaurants still here are mostly just content to serve up the same standard of food that passed muster when Pastamania was all we knew about Italian fare. Where newcomers come in shades of Costa Coffee and Pizza Express, savvy enough to afford the spiked rents that the area's popularity now commands.
So you can imagine why I'd be craving for a place that does good food, like Firebake does.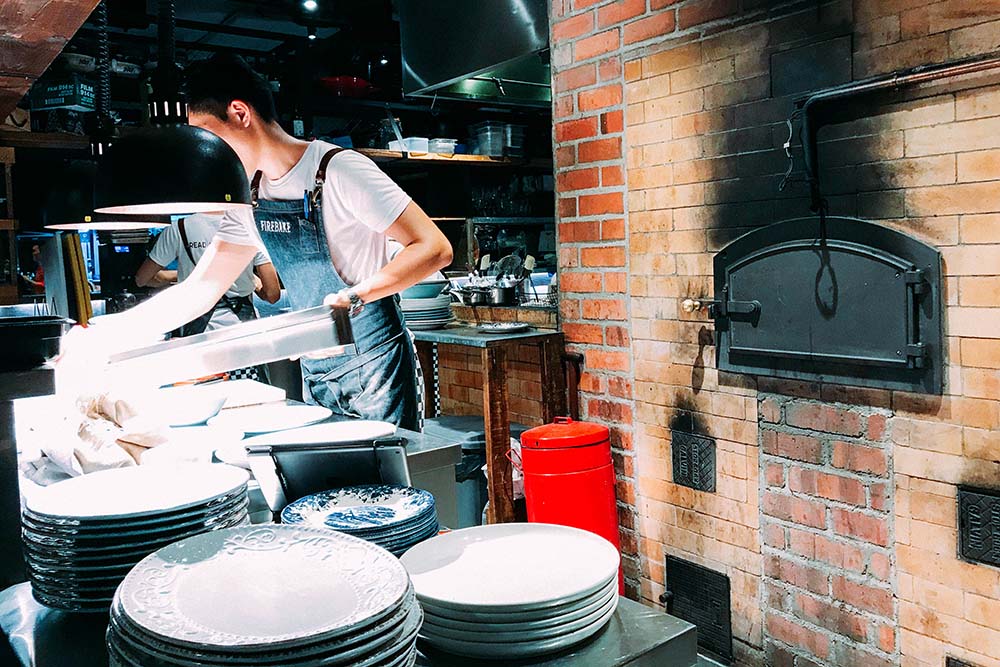 Full disclosure: I've known the owners for a bit. Bing and Tino attended our wedding, gifting us a lovely treat of Nonya kueh for our guests. Bing and I got pally throughout my time in food writing and she's probably the foodiest person I know. Tino fed us with his early bread experiments in return for spent grain from our homebrews. We were invited to Firebake's opening over a year ago, but didn't make the trek out east to their East Coast Road digs until now and did so on the down low.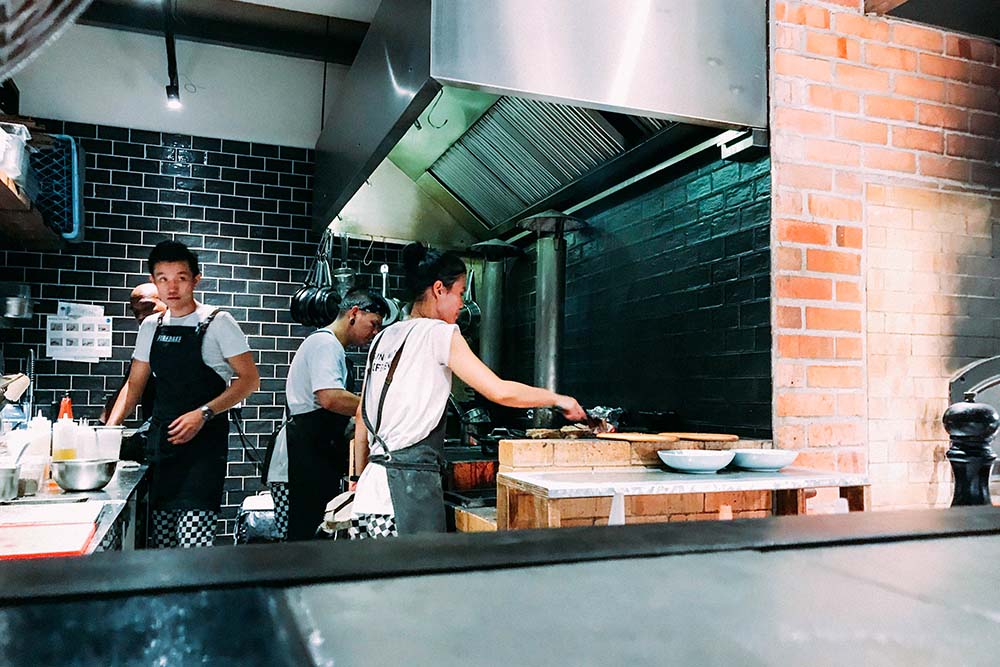 Getting there was an hour on the bus for – an endeavour I admittedly don't usually get up to in this era of Uber and Grab. But with the scourge of Friday surge in effect, I took a cross country tour on the 48. Even at 8.30pm when we arrived, there was a bit of a line waiting to pull up at the counter, the rustic dining tables or breezier Stangee-side outdoor seats.
The best seats in the house for your first visit, I think, are the counter perches that look into the impressive wood-fired grills, cast iron stoves (I learned today that they're better known as AGA cookers in Europe), and the fire-scorched walls above the hearth that the team bake their breads every morning in. And that team. How awesome is it to see an energetic crew of young cooks turn out plates in the kitchen, and that badass lady chef slapping fat steaks on dancing fire?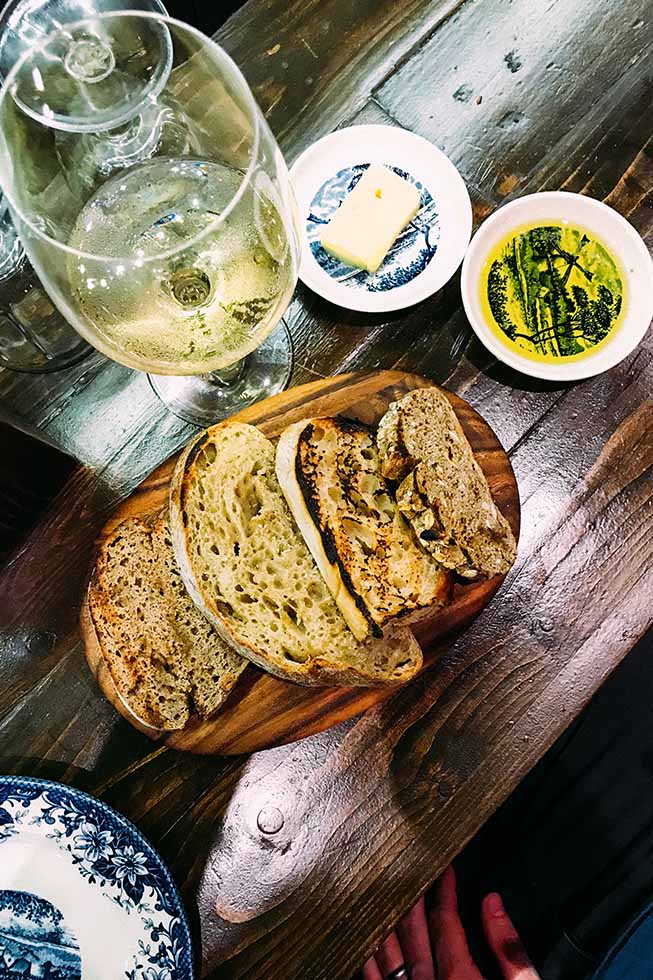 To start, make sure to get the sampler of bread slices ($10) – on our plate, we had the Wave organic white, Rock organic rye, Field organic wholemeal and the special, which was a wholegrain rye on the night – and have them toasted, please. They're fire-kissed after a quick bask on the wood-fired grill, and lend a smokiness to the saucers of Greek extra virgin olive oil and creamy Norwegian butter. Bread seems modest, if somewhat odd for a starter, but they're serious about their loaves here. Tino took a research trip and course in Australia to master the dough, and part of the reason why Firebake's opening was delayed, according to the owners, was due to the special New Zealand volcanic rock ovens they had to get up to code.
For mains, the saffron risotto ($30) I picked was a touch too bland – though I can see understand the thinking behind under-salting the rice in order to let its saffron perfume shine. The cast iron dutch oven, that opened to waft over the briny scent of mussels from the diner next to me, laid down my order for the return visit.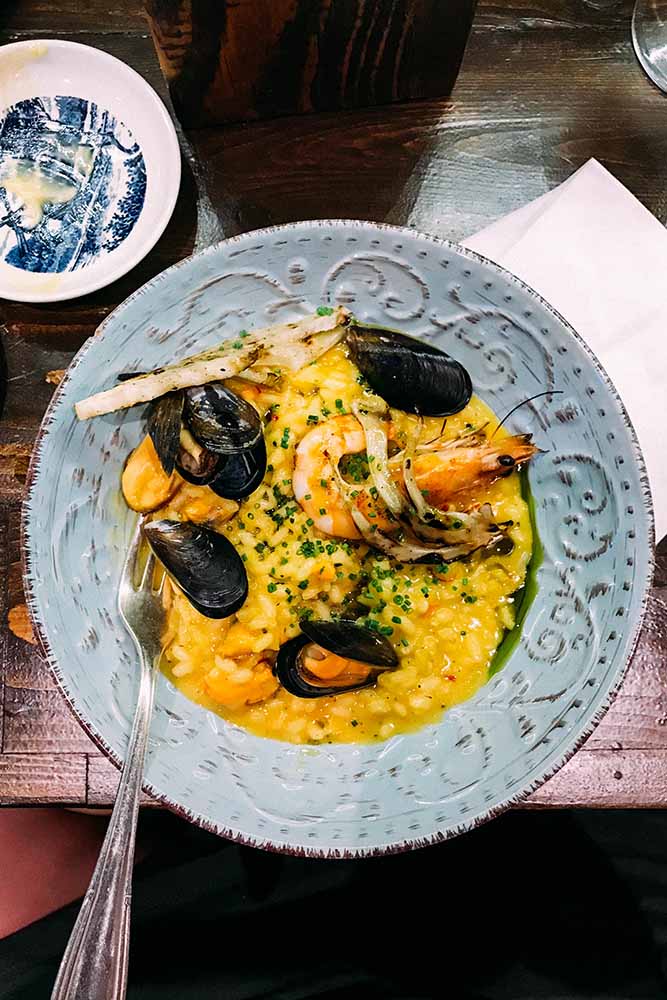 And this is one more reason I know I'll be back: that steak. I've always been partial to Australian Rangers Valley steak for its rich, gamey flavours. Here, they'll fire a generous 300g striploin ($40) over wood embers, AND serve you bright chimichurri on the side to zing up each bite. A steak at CUT's a rare indulgence for us, so this is our new go-to for when we want a hearty, well-cooked wedge, cooked caveman-like.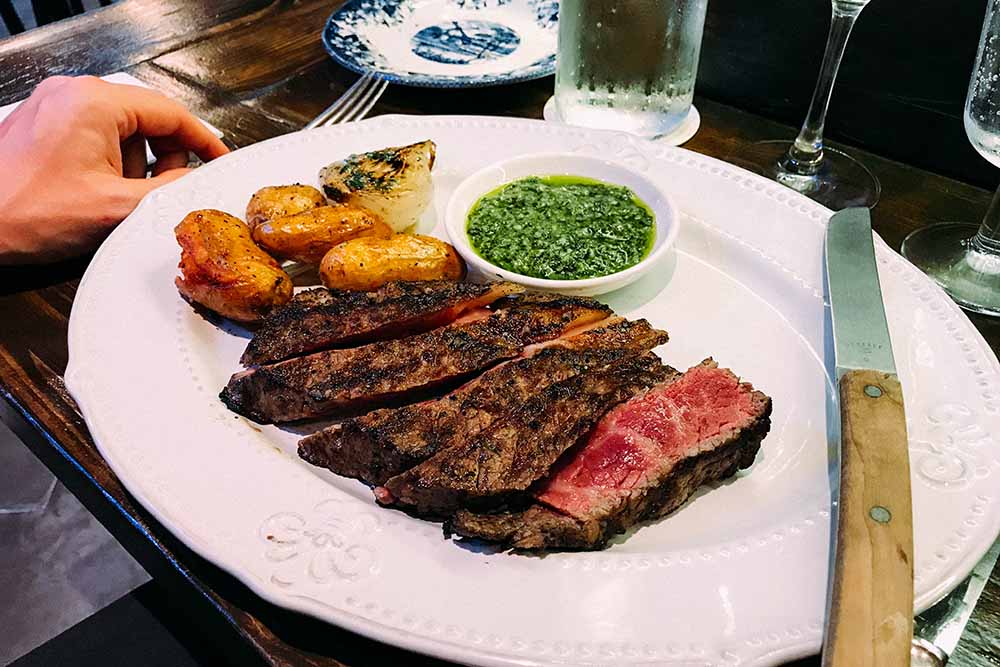 More evidence of their good taste is seen in just about every other detail at Firebake. The coffee's an updated Ironbark 4.1 roast by the folks at Jimmy Monkey, and the characterful and reasonably priced Chenin Blanc ($60) and biodynamic Sancerre ($130) – I love my wines with minerals and dryness – sing of their good taste. Each time they opened their wine fridges to pull out a bottle for a customer, I just had to stretch my neck to see which cool bottle would emerge (I can't drink at the moment, so you can imagine the agony).
I also liked that Tino's Swiss heritage comes through in the selection of two Eau de Vie at the end of the drinks menu, and that they've got a nifty Nordaq filtration system on site that scrubs and carbonates local tap water for a really reasonable $1 a 750ml bottle. My one gripe though: that beer list needs a touch or two more labels with more hops or more personality on its light side than Kona Brewing and Murray's from Australia – if only to keep up with the spirited selection on the rest of their menu.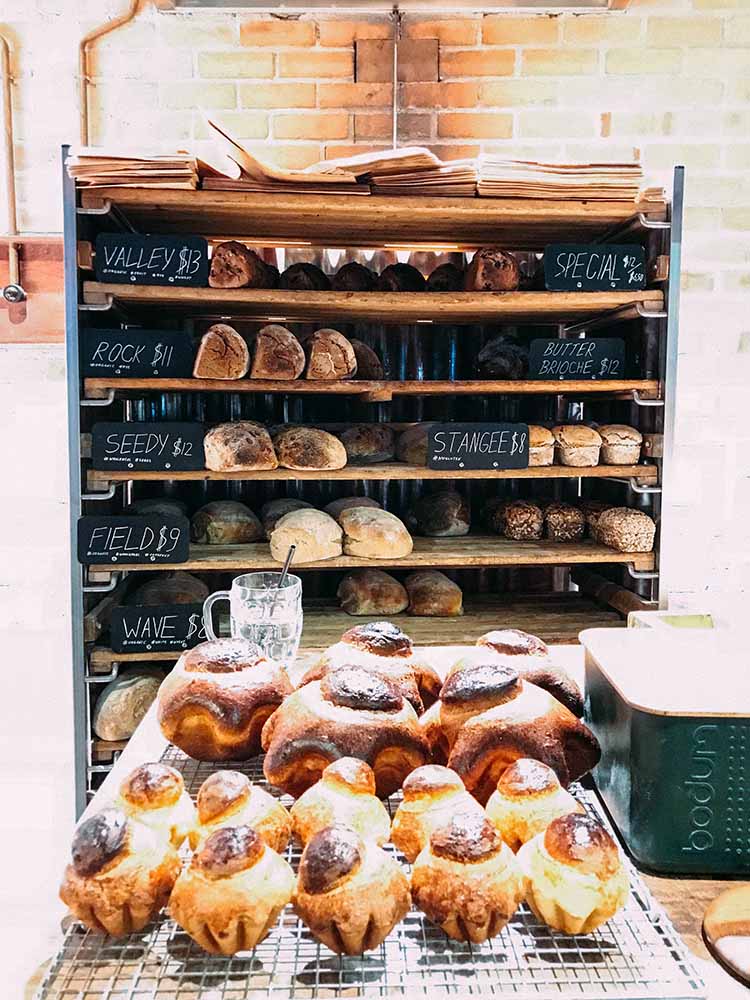 Before you leave, make sure to take a loaf ($8-13) home. We knew we had to get one and a pie ($12) after all the teasing on their Instagram, and our loaf of Wave (white sourdough, I think) continued to bring us more happy meals and snacks throughout the weekend. Quite unlike the expensive bread I bought at a 'celebrity baker's' outlet once that had gone mouldy after a day, Firebake's crumb held up amazingly well over three days. And even if it did start to feel a tad wet on Monday, there was nothing that a quick sear on the skillet couldn't help.
Alas, Bing says that Tino's a 'one place sort of guy', so those dreams I had of rocking up for a hearty meal after a busy day at work will have to be shelved for now. For now, this is another (very) grudging point I'll give to the proponents of 'east side is the best side'.